WATERLOO – Wilfrid Laurier University has appointed Heidi Swanson as the inaugural Jarislowsky Chairholder in Sustainable Water Futures. The endowed research chair was established through a transformational $2-million gift from the Jarislowsky Foundation – matched by Laurier, for a cumulative $4-million endowment – and will focus on sustainable resource management and adaptation to climate change.
Swanson joins Laurier after a nine-year tenure at the University of Waterloo as an assistant and then associate professor in the Department of Biology. She has held a University Research Chair since 2015. In her role as Jarislowsky Chair, Swanson will work between Laurier's Waterloo campus and Yellowknife, where Laurier maintains a research office and a research partnership with the Government of the Northwest Territories.
"Dr. Swanson is an internationally recognized aquatic ecologist who focuses on northern ecosystems," said Anthony Clarke, dean of Laurier's Faculty of Science. "She has established collaborations with government agencies, public health experts, community partners and Indigenous communities over the course of her career, making her the ideal candidate to direct research that integrates community input, including traditional knowledge, from our Indigenous partners in the Northwest Territories. We are grateful to the Jarislowsky Foundation for making this essential research possible."
Swanson will lead an interdisciplinary research program focused on the impacts of climate change and associated disturbances on aquatic ecosystem health that will support the sustainability of Canada's water and natural resources. Teaching and mentorship will be a core tenet of the Chair, facilitating experiential learning opportunities for undergraduate and graduate students.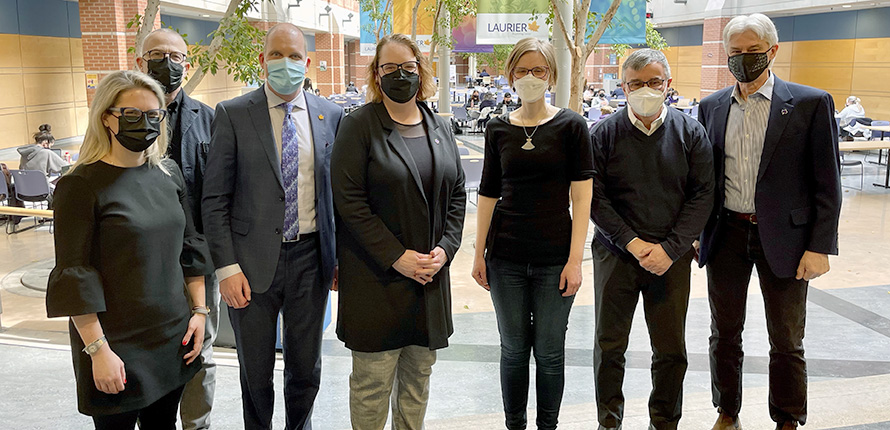 Photo: Swanson (third from right) pictured at Laurier with Stefanie Butt, program manager, Jarislowsky Foundation; Jonathan Newman, vice-president: research; Jason Coolman, vice-president: advancement and external relations; Deborah MacLatchy, president and vice-chancellor; Anthony Vannelli, provost and vice-president: academic; Anthony Clark, dean, Faculty of Science. 
In addition to being a member of Laurier's Department of Biology, Swanson will also be appointed to the Balsillie School of International Affairs, providing unique opportunities for the Jarislowsky Chair to shape innovative policy solutions to sustainability challenges.
"I am really humbled to join Laurier as the inaugural Jarislowsky Chairholder in Sustainable Water Futures and to become part of the incredible network of Jarislowsky Chairs across Canada," said Swanson. "I am excited to contribute to Laurier's deep commitment to conducting interdisciplinary and collaborative research in northern Canada and to being part of such a stellar group of northern-focused researchers."
The Jarislowsky Chair is the latest addition to a vibrant northern water research community at Laurier, which includes the university's Institute for Water Science and Cold Regions Research Centre, partnership projects including Northern Water Futures, and existing research chair positions, including the Canada Research Chair in Cold Regions Water Science and the UNESCO Chair on Food, Biodiversity and Sustainability Studies.
Swanson will begin her new position on July 1, 2022. She is eager to return to the north and build upon her existing partnerships there.
The Jarislowsky Foundation was founded in Montreal by Stephen Jarislowsky, one of Canada's foremost philanthropists and business leaders. A Companion of the Order of Canada and a Grand Officier de L'Ordre national du Québec, Jarislowsky is a strong proponent of the power of endowments to transform non-profits. The Jarislowsky Foundation has endowed research chairs across Canada in fields ranging from democracy, governance and public sector management to the environment and climate change, arts and medicine.