The bold font matches Sara Mazrouei's confident gaze, daring the viewer to question her statement or her place at the table.
"This is what a scientist looks like" proclaims the T-shirt worn by Mazrouei in a new portrait by photographer Hilary Gauld and Wilfrid Laurier University researcher Eden Hennessey (MA '13, PhD '18).
A planetary scientist, Mazrouei is one of 14 women and girls aged nine to 86 featured in Hennessey's new exhibit, "#TurningTablesinSTEM: A photo-research exhibit celebrating girls and women in science." The installation will make its debut in Laurier's Science Building Atrium on Thursday, Oct. 24.
The concept of "turning tables" was inspired by Hennessey's years of research on the topic of sexism in the fields of science, technology, engineering and math (STEM), and discussions with Gauld, her frequent collaborator.
"Tables hold such significance in our daily lives," says Hennessey, who serves as research and programs director for the Laurier Centre for Women in Science (WinS) and manager of the Centre for Student Equity, Diversity and Inclusion. "Tables are where we share meals, map our career paths, sign mortgages, exchange ideas and have critical discussions. Being 'at the table' is a strong metaphor for being seen and heard in our society."
Statistics show that women still don't share an equal place at the STEM table. As of 2016, women made up just 34% of STEM bachelor's degree holders and 23% of science and technology workers among Canadians aged 25 to 64.
Though low, these numbers actually indicate progress: there has been a 20% increase in female STEM workers since 1995. But as Hennessey has learned, the few female scientists who have made it to the table still often feel like they don't belong.
"Just because participation in science has increased does not mean that equity exists or inclusion is being felt," says Hennessey. "Where my past exhibits focused on women responding to feeling excluded at the science 'table,' this exhibit questions the table itself."
Shedding the lab coats
"#TurningTables" is Hennessey's third photo-research exhibit, preceded by "#DistractinglySexist" in 2015 and "#DistractinglyHonest" in 2016. Both previous exhibits were successful at highlighting the gender imbalance in STEM fields and Hennessey has shared her work at dozens of conferences, workplaces and schools internationally.
This is the first of Hennessey's exhibits to portray scientists without their white lab coats. Though a seemingly minor change, she discovered the symbolism is profound.
"A white lab coat is the easiest way to signal that someone is a scientist, but I received feedback that I was actually perpetuating a narrow stereotype of what a scientist looks like," says Hennessey. "This time, we've shed the coats. The focus is on the scientists and what they want to say."
Becoming visible
One of Hennessey's collaborators on "#TurningTables" is the woman who hired her at WinS. Shohini Ghose, the centre's founder and director, is a professor of physics and computer science at Laurier. Her passion for WinS is inspired in part by her own experience as a young woman pursuing physics, which she recounted in her 2012 TEDx Talk, What if Einstein had been a woman?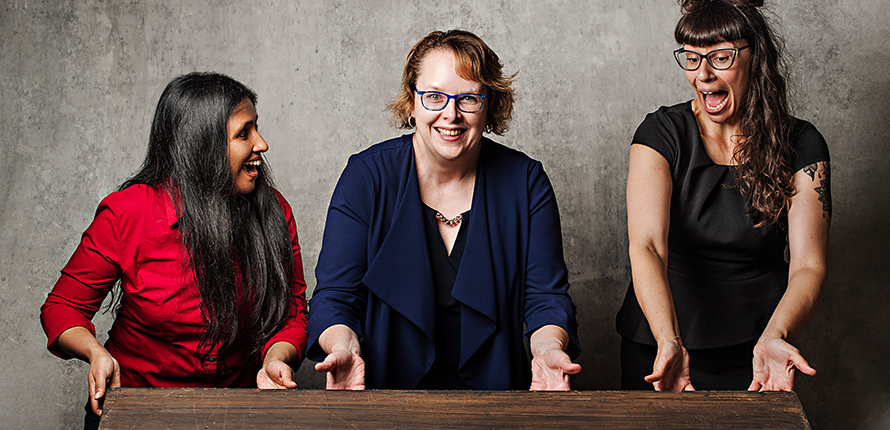 Shohini Ghose (left), Deborah MacLatchy and Eden Hennessey
"Physics classrooms were often a lonely place," says Ghose. "I was often the only woman there, or one of two. In those classrooms I found a new power: the power of invisibility."
Ghose learned that, while it can be nice to go unnoticed, the problem with invisibility is that "you can't turn it off when you want to. Women's invisibility is built into the system, which must be changed." 
As an example, Ghose points to Anne Innis Dagg, a zoologist who confronted the sexist world of mid-20th-century academia. Innis Dagg, who is also featured in "#TurningTables," is best known for writing The Giraffe: Its Biology, Behaviour and Ecology, widely considered to be the most influential book about the species. Her personal story was the focus of the 2018 documentary film The Woman Who Loves Giraffes.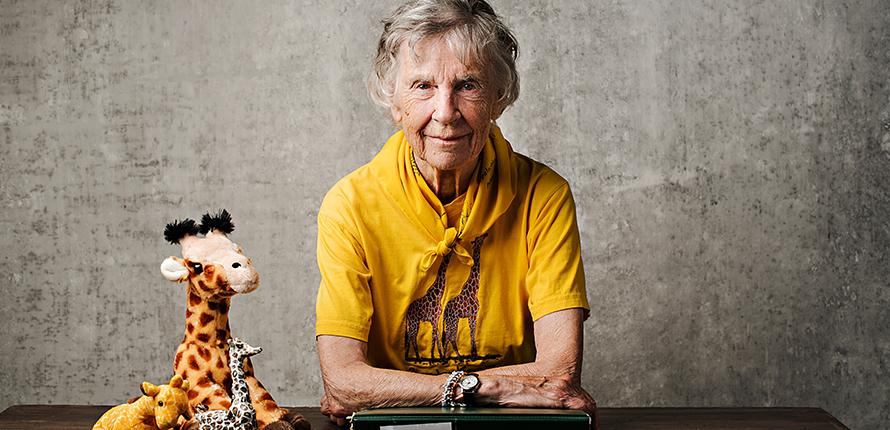 Anne Innis Dagg
Despite her prolific research output, Innis Dagg struggled to find work as a professor in Ontario during the 1970s. She was never hired for a permanent full-time academic position, yet she continued her research and widened her focus to include inequality in science and the education system.
"I love Anne's photos in the exhibit," says Hennessey. "She's seated at the table with such confidence, like she's saying, 'Here I am.'"
Commitment from Laurier
Hennessey appreciates that her work is supported by Laurier, acknowledging its "progressive" approach to equity, diversity and inclusion (EDI) in science. The university was recently selected as one of 17 post-secondary institutions to participate in a Government of Canada pilot program, Dimensions: Equity, Diversity and Inclusion Canada, to increase EDI in research.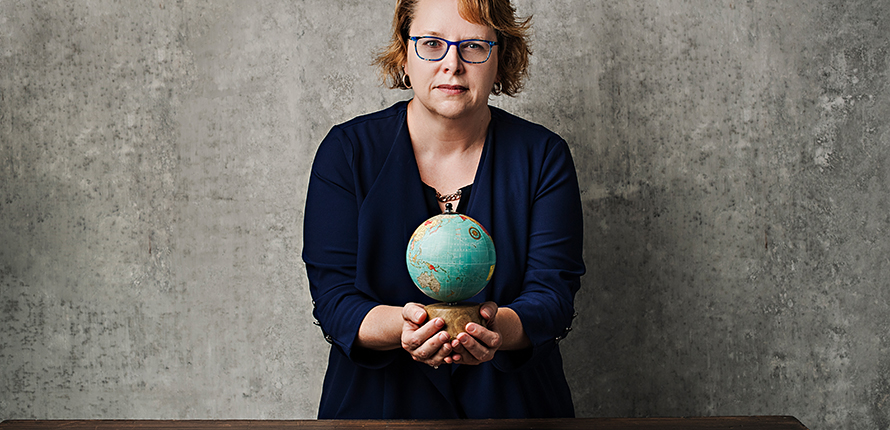 Deborah MacLatchy
Laurier President and Vice-Chancellor Deborah MacLatchy, a scientist herself, signed the Dimensions charter on the university's behalf. Her image is part of "#TurningTables."
"We know that underrepresented groups respond positively to images that help them picture themselves in leadership roles," says MacLatchy. "A picture, after all, paints a thousand words. Eden's exhibit will hopefully provide a small mirror for girls and women aspiring to their own dreams." 
Future paleontologist
Hennessey's exhibit features one such young girl with big dreams. Gracyn Hepplewhite is nine years old and wants to be a paleontologist when she grows up. She is pictured in her favourite dinosaur sweatshirt, one that she bought in the boys' clothing section.
Gracyn Hepplewhite
"Gracyn has this goal to be a scientist and at this point in her life, nothing has suggested that she can't," says Hennessey. "It seems to be around 12 or 14 when social norms begin to take hold, and it would be such a shame if she was turned off of pursuing her interests because she has to go shop in the boys' section."
That's why interactive initiatives like "#TurningTables" are so important, says exhibit subject Lisa Cole, a physics and math educator in the Durham District School Board currently working for the Ontario Ministry of Education.
"We need to help girls develop leadership skills and confidence in their work at a young age," says Cole. "It's meaningful to highlight Canadian women working in STEM and the stories behind how they got there."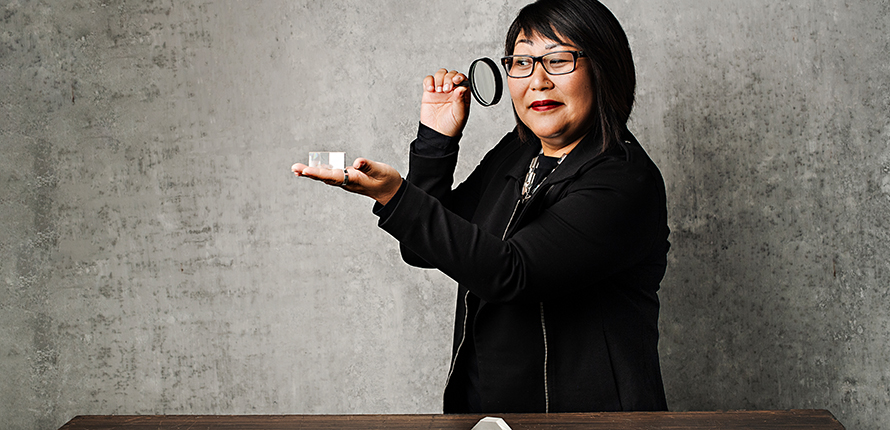 Lisa Cole
Even before its debut, "#TurningTables" has already impacted at least one aspiring scientist.
"I like that the project is about girls who like science and that Eden included me even though I am only nine," says Hepplewhite. "Girls need to believe in themselves. I believe in myself and that should lead to success."
"#TurningTablesinSTEM: A photo-research exhibit celebrating girls and women in science" debuts at Laurier's Science Building Atrium on Thursday, Oct. 24 at 6 p.m. All are invited to attend and refreshments will be provided. The exhibit is generously supported by the Laurier Student Life Levy and the Wilfrid Laurier University Students' Union.