Fourth-year Wilfrid Laurier University student Kristin Cobbett's extracurricular activities are quite literally out of this world. 

Cobbett, a biology and chemistry double-major student, is one of 13 undergraduate students from around the world accepted into the 2020 Advanced Academy Program at Project PoSSUM, an immersive, experiential learning opportunity for undergraduate students interested in upper-atmospheric research, bioastronautics, science communication and human space flight operations.      
"Acceptance into the Project PoSSUM program puts me one step closer to realizing my dream of becoming an astronaut," says Cobbett. "I'd love to be the first person – not just woman – on Mars, as it is the closest celestial candidate that could harbour life. I'm studying biology and chemistry to better understand how life on Earth works so that I can one day contribute to how life on Mars will work."  
As part of Project PoSSUM, an acronym for "Polar Suborbital Science in the Upper Mesosphere," students complete three weeks of preparatory webinars before travelling to the Florida Institute of Technology, where they receive five days of academic instruction. Mission simulation, hyperbaric-altitude training, and simulated high- and micro-gravity space flight in an aerobatic aircraft are just some of the hands-on training opportunities students experience. 
Cobbett hopes to complete in-person training in January 2021, if possible, amid the ongoing COVID-19 pandemic. After completing the program, she will earn the title of "scientist-astronaut candidate" and the ability to pursue Project PoSSUM's graduate programs, putting her closer to achieving her dream job.  
Cobbett's interest in space started early in life. Her father is an aerospace engineer at United Launch Alliance (ULA), a space launch company in Denver, Colorado. Cobbett recalls attending family days at ULA, where she watched rockets launched and explosives tested.   

While Cobbett's parents have long supported her dream of becoming an astronaut, encouragement from Laurier Professor Ioannis Haranas during a first-year astronomy course boosted her confidence and resolve.   

"It was Professor Haranas who encouraged me to apply to Project PoSSUM," says Cobbett. "From the first time we talked during office hours, he has motivated me to reach for the stars and forget my backup plan. I feel like he sees my potential and that has made an impact on me."  

Cobbett has worked as Haranas' research assistant for the past year and together they published three research papers focused on modified Newtonian dynamics. In March, Cobbett received an award of excellence from the International Institute of Engineers and Researchers for her research paper "Post-Newtonian Logarithmic Correction Term Effects in Two-Body Dynamics" at the International Conference on Applied Physics and Mathematics, held in England.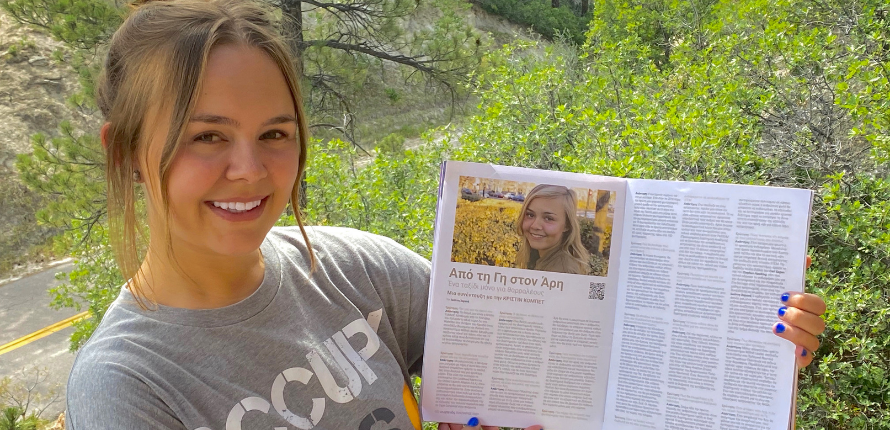 "Kristin is on track to turn her dreams into reality," says Haranas. "Her passion and aptitude for planetary science, combined with elite training experiences like those offered through Project PoSSUM, are preparing her for a bright and impactful future."  

In addition to research collaborations, Haranas has also helped Cobbett make connections within the space community. She has been featured in the Greek magazine Ouranos, published by the Space and Astronomy Society of Volos, Greece. The article, "From Earth to Mars: A Journey Only for the Brave" discusses Cobbett's acceptance into Project PoSSUM, her perspective on the importance of space travel and her astrophotography.   

"It's been great working and learning with Professor Haranas," says Cobbett. "I am a long way from liftoff, but I know his mentorship will continue to benefit my journey."  

After graduation, Cobbett plans to return to the United States and join the Navy. With a bachelor's degree, she can enter as an officer and obtain flight experience while completing a graduate degree. Cobbett hopes to be considered for NASA's mission to Mars planned to take place during the 2030s.    

"To be the first person to step onto Mars would mean that I would be seeing the planet in real life for the first time in human history," says Cobbett. "I love to explore, and we only have one lifetime here, so why not live it doing something you love?"