Wilfrid Laurier University student Sofiya Bezruchko is anxiously awaiting the arrival of her aunt and cousin in Kitchener.  
Bezruchko's family members are among the estimated four million Ukrainians who have fled the country since an invasion by Russia began on Feb. 24. In addition, 6.5 million Ukrainians have been displaced inside the war-torn country, including Bezruchko's relatives from Sumy, in the country's northeast. Some of her family members remain in the western cities of Lviv and Ivano-Frankivsk, where she was born. 
"We are shaken," says Bezruchko. "With the images that recently came out of Bucha, some of us may never see our family members again. This is a very difficult time."  
Bezruchko is among students at Laurier impacted by the war in Ukraine. The university is committed to caring for the well-being of its students and recognizes the impact the war has on members of the student community.  
During the past several weeks, staff members from the Dean of Students Office, Laurier International, the Student Wellness Centre and Student Finance have been working closely with campus partners and student groups to provide coordinated support to those adversely impacted by the war. Support – including academic accommodation, counselling, emergency bursaries and immigration advising – is ongoing and designed to meet the individual needs of students. 
"We are in regular contact with all of our impacted students," says Ivan Joseph, vice-president: student affairs at Laurier. "Laurier faculty, staff and student affairs professionals are working individually with these students to meet the unique needs of their circumstances. We stand with our students and hope for a resolution to the war." 
Laurier has also connected with the Ukrainian Canadian Student Union to explore additional ways to assist impacted students. 
The following supports are in place for students impacted by the war in Ukraine, with resources also available to Laurier faculty and staff. 
Support Group for Students Impacted by War 
Led by Laurier Student Wellness Centre counsellors, this group provides a safe environment for students impacted by war or conflict to share their experiences, receive community support and reduce feelings of isolation. Students can attend virtually using Zoom or in person at the Student Wellness Centre at Laurier's Waterloo campus. The group currently meets weekly and will continue to meet during the upcoming spring term. 
Laurier Helps Ukraine 
A new Students' Union club, Laurier Helps Ukraine, aims to provide humanitarian assistance for refugees affected by the war in Ukraine through fundraising and awareness initiatives.  
"Our members are amazing and are working hard to help people impacted by the war, including those in Ukraine and here at Laurier," says Bezruchko, president of Laurier Helps Ukraine. "We are feeling the love from the Laurier community during this difficult time."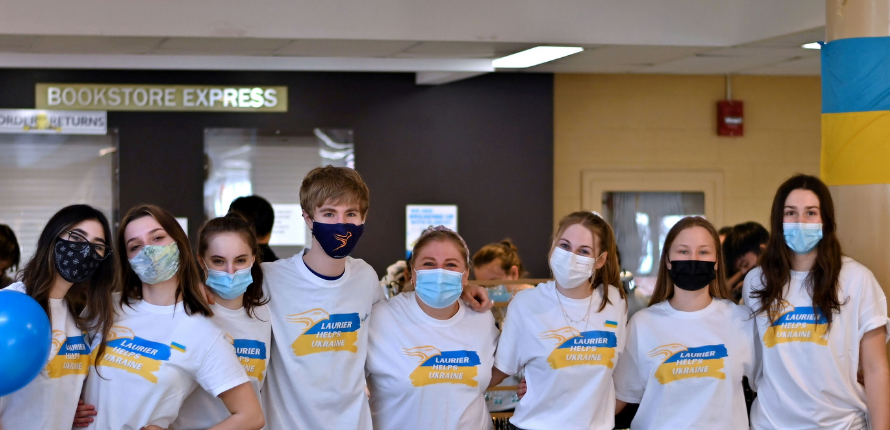 Laurier Helps Ukraine is selling raffle tickets for a prize draw to raise money for the Canada-Ukraine Foundation and Help Us Help, two charitable organizations providing financial assistance to on-the-ground initiatives in Ukraine. The club has raised more than $1,000 to date. Raffle tickets cost $5 each and can be purchased online until April 11. Winners will be announced April 15 at noon on Laurier Helps Ukraine's Instagram account. Financial donations can also be made online. 
The club's executive team plans to collaborate with other student groups at Laurier to help university students in Ukraine continue their studies at Laurier during the 2022-23 academic year. Laurier Helps Ukraine also hopes to connect with student groups at Conestoga College and the University of Waterloo to support similar initiatives on their campuses.  
For more information about Laurier Helps Ukraine, email laurierhelpsukraine@gmail.com or follow the group on Instagram or Facebook. 
Scholarships for Students Overcoming War 
International Students Overcoming War (ISOW) is a Laurier student-led program that provides scholarship support to students fleeing violence in their home countries. Through ISOW, students can continue their studies at Laurier and receive support from ISOW's caring community of student and faculty representatives. 
ISOW is a student- and donor-funded program. Donations to ISOW have helped students fleeing conflict in the Middle East and will also assist those leaving Ukraine. All members of the Laurier community are invited to consider a donation to the ISOW Scholarship Fund.  
Student Employment Opportunities 
Long-time co-operative education partner CIBC is offering impacted students at Laurier part-time and co-operative education employment opportunities to support their financial well-being amid the ongoing crisis. Co-operative education and Laurier International staff are in contact with impacted students to match them with opportunities offered by CIBC and other community partners who have expressed a desire to help. 
For more information about support for Laurier students impacted by the war in Ukraine or to request support, contact the Dean of Students Office: