It's great to be a Laurier Golden Hawk, and a dedicated group of Wilfrid Laurier University students will happily explain why.
Each year, over 80 Laurier student ambassadors showcase academic and student-life experiences for prospective students and their families visiting Laurier's Brantford and Waterloo campuses. Student ambassadors lead campus tours for various audiences, including applicants, high school students, donors and dignitaries; engage in real-time conversations on Laurier's Discord channel; represent Laurier at recruitment events such as the Ontario Universities Fair and respond to questions from prospective students submitted online.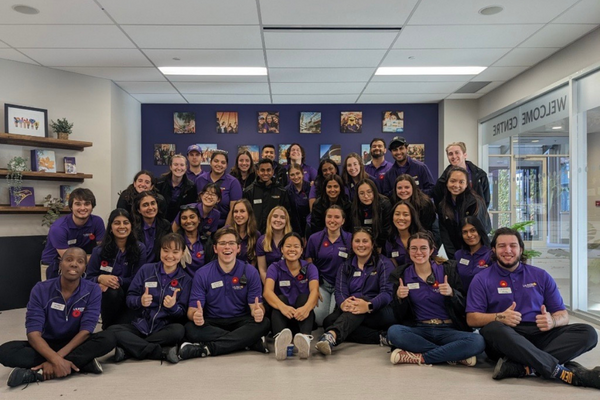 Photo: Sharlon Lalor, front left, with student ambassadors at Laurier's Waterloo campus.
During Laurier's fall 2022 open houses, student ambassadors connected with more than 2,700 prospective students and their families through campus tours, workshops and information fairs.
"Laurier student ambassadors are really recruitment experts," says Sharon Lalor, Welcome Centre and events coordinator at Laurier's Waterloo campus. "Our ambassadors facilitate in-person and online experiences to give prospective students an authentic look at what university could be like if they choose Laurier."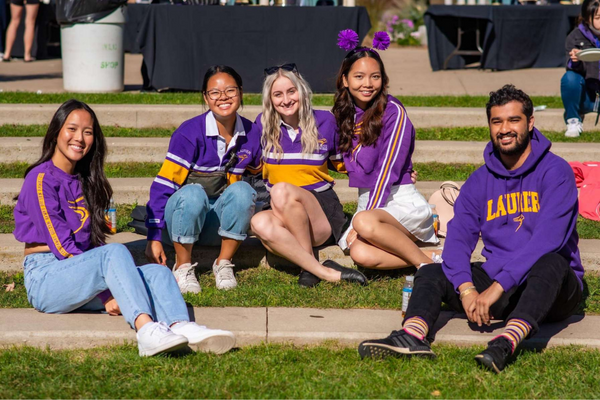 Photo: Wendy Zhou, pictured second from left.
Students hired to work as Laurier ambassadors represent an array of academic programs, faculties, clubs and associations and often draw on their own Laurier experiences while interacting with prospective students. While their backgrounds differ, a shared passion for Laurier permeates their interactions with prospective students and their families.
"We often hear from parents and prospective students about how their Laurier ambassador made them feel – and that is something special," says Michelle Meyer, Welcome Centre and events coordinator at Laurier's Brantford campus. "The conversations that our ambassadors have with other young people can be life-changing. Many current ambassadors were inspired to do this work as a result of experiences with their own student ambassadors."
That's exactly why fourth-year business student Wendy Zhou became an ambassador at Laurier's Waterloo campus. Zhou vividly remembers the student ambassador that led a campus tour she took as a high school student from Brampton.
"Billy had put so much energy and life into his tour," recalls Zhou. "During that tour, I really saw myself being at Laurier. When you get that feeling, you know you're home."
Zhou channels her "inner Billy" to create inspiring and informative experiences for the students, families and visitors she meets through her role.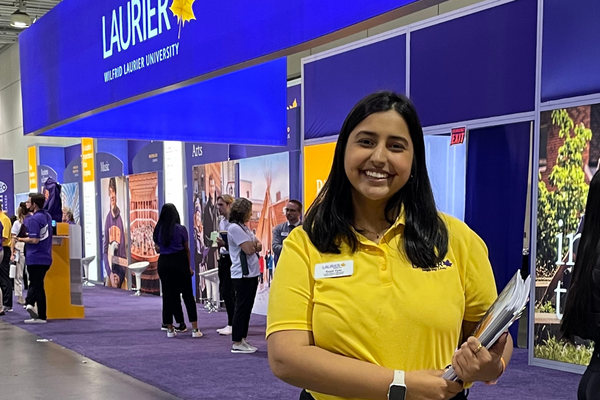 Photo: Koyal Vyas at the Ontario Universities Fair.
"I have absolutely loved my Laurier experience, and I want other students to have that, too," says Zhou.
Koyal Vyas, a student ambassador at Laurier's Brantford campus, also shares her enthusiasm for Laurier, including the university supports and resources that have helped her thrive as a student.
The Dean of Students Office, the Accessible Learning Centre and the Academic Advising Office are just some of the supports Vyas highlights while interacting with prospective students.
"It is important for me to let future students know how Laurier can help them if they hit a few bumps," says Vyas. "There is a community of support here at Laurier, and everyone wants to see you succeed."
Prospective students can book a campus tour using the online scheduling tool. Questions can be sent to waterlootours@wlu.ca or brantfordtours@wlu.ca.