TD Lab, a division of TD Bank Group (TD), dedicated to researching and building innovative solutions to help meet the evolving needs of its customers, has built a strong, reciprocal relationship with Wilfrid Laurier University over the past seven years.
Through its co-op program and an in-course project, students gain real-world experiential learning opportunities and build their professional networks, while TD Lab can tap into a key audience for new perspectives and connect with talented upper-year students looking to start their careers.
TD Lab has chosen to develop its relationship with Laurier, along with other key universities, in part because they've found that Laurier students have the right mix of technical and transferable skills, as well as creativity.
"In the last few years, we've really tailored what we're doing here in the lab," says Samantha Estoesta, the manager of equity in innovation and programs at TD. "One of the decisions we made was, are we going to build relationships across the province or should we solidify the relationships we already have? We made a choice to really dive deep into the relationship we have with Laurier, because we found the quality of work that came from these students was really thoughtful and useful. It really impacted the way we thought about the projects we're working on."
TD Lab, headquartered in Waterloo, has been hiring students for business analyst, software developer and user experience designer co-op roles nearly every semester since 2015.
Since TD Lab is a small part of a large corporation, Laurier students work closely with teammates on projects and have many opportunities to meet one-on-one with senior leaders for guidance and mentorship, but they can also make connections within the larger network at TD.
Co-op students are an integral part of TD Lab's projects at all stages, from brainstorming to pitching, development and user testing. Students are also given time to pitch ideas to TD Lab and pursue their own projects and professional development.
The TD Student Budget Calculator, which can help postsecondary students with managing their finances, received direct feedback from Laurier co-op students, who also helped in its development. The tool was later tested by Laurier students.
"Our team is very cross-functional and students get involved with all the different functions in the business. They're working with designers, developers and analysts," says Matthew Ladzik, a senior business management analyst and Laurier alumnus (BBA '19). "One thing students really appreciate is the testing, which is a big part of our process. Students can receive firsthand feedback not only from their mentors but also from senior executives from the Bank on what they've built, which can be very rewarding."
Ladzik started at TD Lab in fall 2018 in a business analyst co-op role, researching opportunities and project proposals. When his co-op ended, he continued working at TD Lab in a part-time role for his last two terms at Laurier before being hired full time in fall 2019. Now, as a senior business management analyst, he works on product research, development, management and analysis and also hires co-ops and full-time employees, some of whom were former co-op students.
"We keep track of our former co-op students and whenever we have a full-time role come up, we look to that pool," says Estoesta. "Matt is a great example of a co-op we just needed to retain."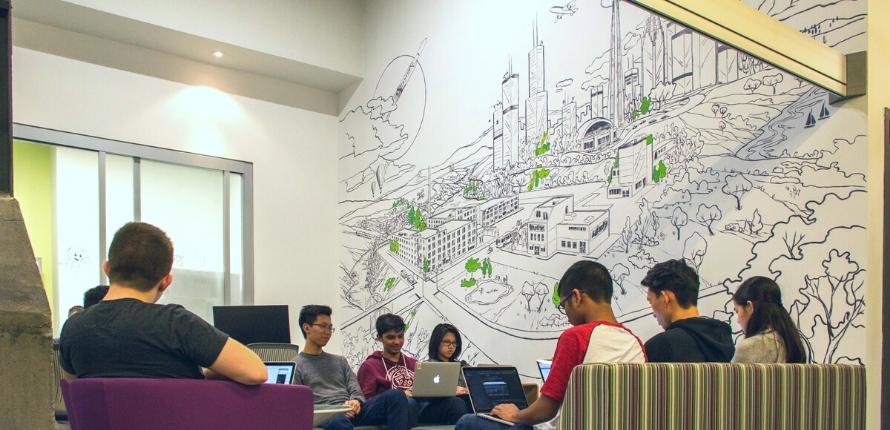 TD has also hired former students who've made a lasting impression in a fourth-year Laurier Marketing Research course. The Bank has been working with Laurier on a major project for the course since 2019.
At the beginning of the course, TD Lab supplies the class with a problem statement, a real question or problem faced by the Bank, such as how to help undergraduate students learn about investing, how to better serve international students and how TD could become a more inclusive financial institution.
Students are divided into consulting groups to consider the problem, using the knowledge and skills they've honed throughout the course and from their undergraduate studies, and gather data on potential solutions, through surveys or focus groups. At the end of the term, students deliver a presentation to the class and a panel of TD Lab representatives and hand in a report detailing their recommendations.
"It's great to get fresh perspectives from students. There's a lot of creativity from the class, which is part of the fun," says Ladzik. "We may have assumptions about our audience and students can help us either validate those assumptions or challenge them. The reports also help us understand students' expectations, especially around technology."
In turn, students in the course gain a valuable opportunity to apply their learning to a real problem and receive feedback on their work at the end of the course. In a survey of students' experiences of the course, 100% of students said they had a positive experience and 96% would recommend the course to a future student.
Laurier partners with organizations across Ontario and Canada for curricular and co-curricular experiential learning opportunities. Find out more about Community and Workplace Partnerships and Co-op opportunities at Laurier.