An innovative academic initiative in the Faculty of Arts at Wilfrid Laurier University is engaging students with municipal projects and policies for the City of Waterloo. 
Led by the Department of Global Studies, the Laurier-City Hub immerses students in real-world social-change projects and policy innovations while earning academic credit. Through the initiative's flagship course, Social Innovation in the City, students collaborate with municipal partners at the City of Waterloo on strategic projects and priorities. Students conduct literature reviews, engage in field research and review case studies to develop a set of recommendations to present to city staff at the end of the course.
Students can also apply to continue working on their course project alongside community partners through a paid summer internship. 
"The Laurier-City Hub is a unique opportunity for all those involved," says Ehaab Abdou, assistant professor in the Department of Global Studies and Laurier-City Hub coordinator. "Students go beyond theory and work on tangible, complex social issues faced by our municipal partners who, in turn, can leverage the knowledge and insights of the city's student demographic."  
Policy and social innovation recommendations are also informed by community partners, Laurier researchers and experts who are an integral part of the consultative process.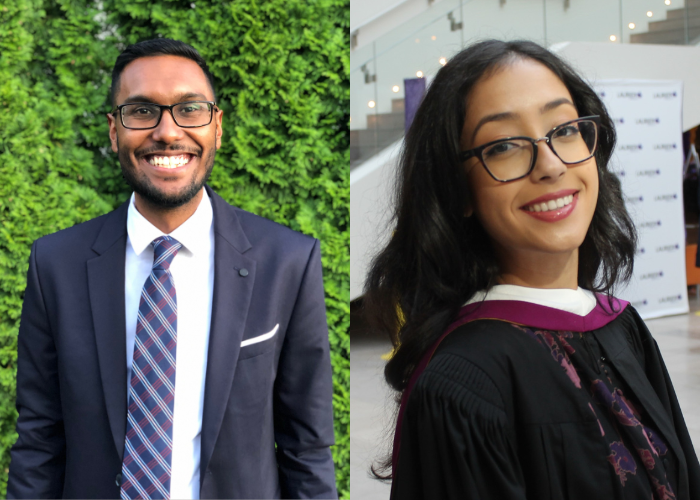 Sukhdip Kharoud (BA '21) Julianne Silva (BA '21) participated in Social Innovation in the City during the winter 2021 term.
Projects supported through the Laurier-City Hub include the revitalization of outdoor spaces at Waterloo City Hall, engaging students in the city's strategic planning process, collaborating on affordable housing initiatives, and enhancing sustainability practices among city staff. 
"Student engagement is important to the City of Waterloo," says Sandy Little, executive officer to the chief administrative officer for the City of Waterloo. "Students are an integral part of our community. Their perspectives help to shape the Waterloo of tomorrow and address some of our current municipal challenges. The student-city relationship is one we truly value." 
Julianne Silva (BA '21) and Sukhdip Kharoud (BA '21) worked on a city procurement policy while participating in the winter 2021 offering of Social Innovation in the City. The project addressed ways the City of Waterloo could equitably and sustainably procure goods and services, including those from businesses owned by women, immigrants and racialized community members.
The students reached out to over 50 businesses, consulted online databases and researched municipal procurement policies used by the City of Toronto and the City of Chicago.  
"Embedding equity into procurement practices ensures all business owners have an equal opportunity to compete for city contracts and build strong economic relationships," says Silva. "This is meaningful work that can help develop holistic economic relationships in our community." 
Working on real-world projects through the course not only engages students in real-world issues in their community but also allows them to develop career-ready skills.  
"This experience taught me so much about professional communication skills," says Kharoud. "I see the benefit of using plain language in writing reports and presentations, and I also read more critically now. These are skills that have benefitted me in my current role." 
Social Innovation in the City can be taken as an elective course in Laurier's Social Entrepreneurship option, the first Canadian undergraduate social entrepreneurship program grounded in the liberal arts. The option is open to all students, but priority is given to those in the Faculty of Arts.