Kevin Burrell has always been interested in religion, but his research on the history of the Bible is inspired by something deeper: a personal quest for identity.
"I have always been conscious of my Blackness, of my place of 'otherness' in Western society, so I'm interested in finding my roots as a Black person in the ancient context," says Burrell. "Does this notion of biological inferiority cohere with the ancient past? Does it comport with the evidence, or is it something that was made up?
"I need to find out because my identity and my sense of self in the world is dependent on it."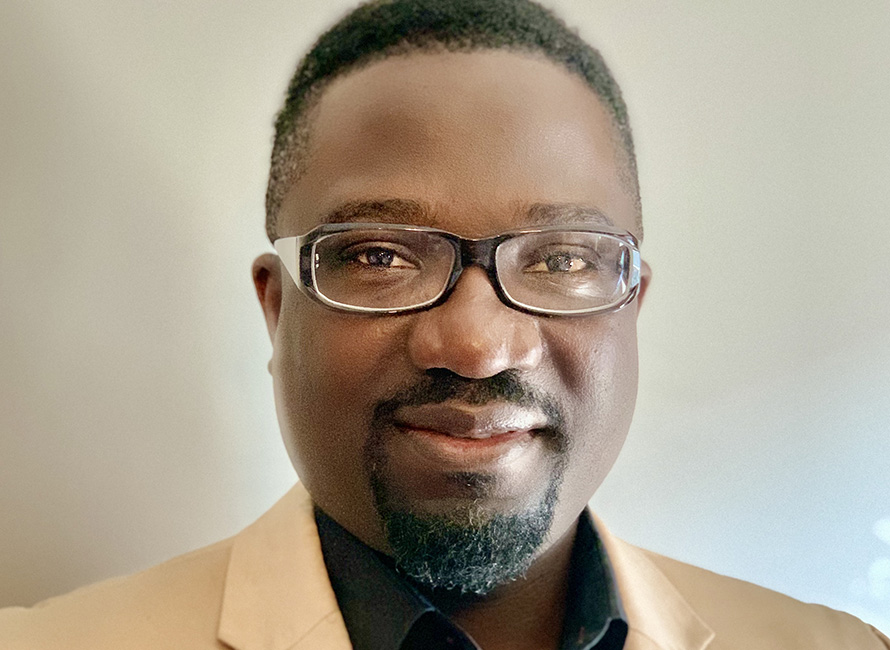 Burrell, an associate professor in Wilfrid Laurier University's Department of Religion and Culture, studies how the Hebrew Bible influenced identity formation, colonization and slavery in Western history. He interrogates the very origins of "race" that continue to permeate our culture.
"People often trace racism back to Social Darwinism or 18th-century philosophy, but my argument is that the Bible was the first tool used to construct a biological notion of race for the purpose of legitimizing power," says Burrell. "We're living something that was passed on to us. Most people are unaware that there is no such thing as a biological basis of race."
Early in his career, Burrell noticed that many religious scholars from the 19th century onward used Biblical precedents to justify the subordination of people of African descent. Through his own scholarship, including the 2020 book Cushites in the Hebrew Bible: Negotiating Ethnic Identity in the Past and Present, Burrell disputes those interpretations.
He says that the ancient Israelites and Egyptians didn't discriminate based on skin colour. They distinguished themselves from others on cultural and ethnoreligious grounds, not racial, and lived in mixed-race societies. Burrell believes that the significant contributions of Africans in the Bible were purposely overlooked.
"It was clear that these interpreters were reading the current social-political dynamics onto the past," he says. "They invariably drew upon ancient literature, iconography and text to attempt to prove that Blacks have always been slaves, as to say 'there was something innately inferior about you that disposed you to be enslaved.'"
This narrative was developed to legitimize the transatlantic slave trade, the first time in history that enslavement was based solely on skin colour.
"Christian theorists set up a hierarchy of race, based in large part on what was playing out in British and American slave societies," says Burrell. "European imperialism precipitated the theorizing of a more biological racial formation."
For example, Burrell says, the story of Noah's ark, a mainstay in Sunday school lessons and children's books, was used for insidious means.
"According to the Bible, the ark with Noah's family came to rest in the southern Caucasus mountains in Asia," says Burrell. "A well-known theorist, Blumenbach, argued that this was therefore the place of origin of mankind, and that the original form of mankind was white, or Caucasian. He asserted that as people moved away from the 'ideal' climate of the Caucasus region, their skin colour started to change. As they moved away from whiteness, they became more 'degenerate.' Skin colour became an index of worth."
Burrell calls this theory "absolutely ridiculous" and in direct conflict with modern science. Yet its construction of race has been a "very powerful social agent" that continues to impact people's well-being.
"The point is that the Bible is really malleable: you can make the text say whatever you want," says Burrell. "I think the Bible has many great teachings, but Christianity is equally implicated in violence as any other religious tradition. This includes the destruction of Indigenous peoples and their cultures, the world over, by European Christians, and the appropriation of their lands."
Burrell explores this paradox at Laurier, where he teaches a course about how the Bible has been used as a tool of both liberation and oppression.
"I think it's crucial to examine because unless we know how things have been constructed, we don't question beliefs that we receive," he says. "We don't question the racial order or the notion of white supremacy. We accept these paradigms implicitly and we live them on a daily basis. But I am saying that the racial order is not hallowed. It is not sacred. This knowledge can help us toward the work of equity, diversity and inclusion."