For the community of Łutsël K'é (pronounced "loot-sell-kay"), ice is essential for survival. Located on the eastern edge of Tu Nedhe, Great Slave Lake in the Northwest Territories, Łutsël K'é is home to approximately 300 residents, most of whom are Dënesųłiné and belong to the Łutsël K'é Dene First Nation. This isolated community is only accessible by air, boat or ice.
Hunting remains a critical food source and reaching traditional hunting sites can involve travelling over frozen lakes for hours at a time. Lake ice conditions across the Northwest Territories have been changing as the climate warms. Northern Canada is warming three to four times faster than the global average.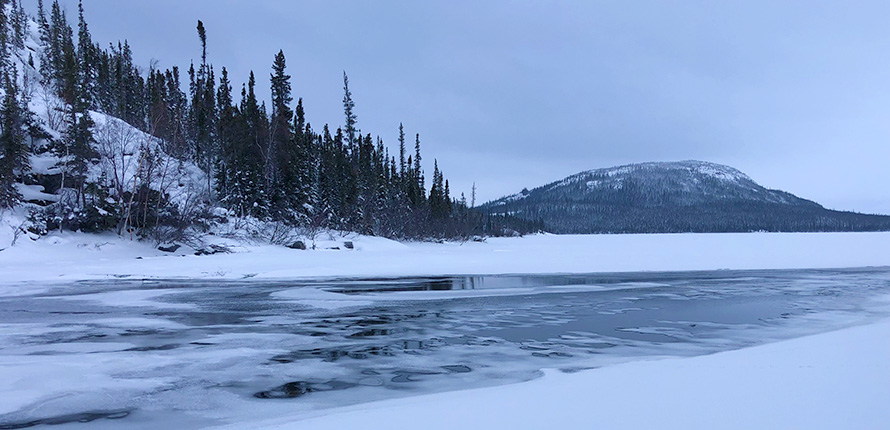 Great Slave Lake
"What we've noticed in the last 10 years is that it's taking longer and longer for our big lake to freeze, and we use that lake quite extensively in the winter months," says Iris Catholique, manager of Thaidene Nëné, homeland of the Łutsël K'é Dene First Nation and an Indigenous-protected area that spans 26,376 square kilometres. "Waiting longer and longer for the lake to freeze impedes our ability to access our traditional hunting grounds and provide for our people."
Unpredictable ice conditions have also caused snowmobiles to get stuck or plunge into the water. Łutsël K'é experienced a tragedy in 2019 when three community members are believed to have fallen through the ice on snowmobile while travelling over Great Slave Lake.
In response to this loss of life, Catholique and her colleagues contacted Wilfrid Laurier University researchers to collaborate on strategies for ice safety. They had heard about the work of Homa Kheyrollah Pour, a Laurier faculty member and the Canada Research Chair in Remote Sensing of Environmental Change.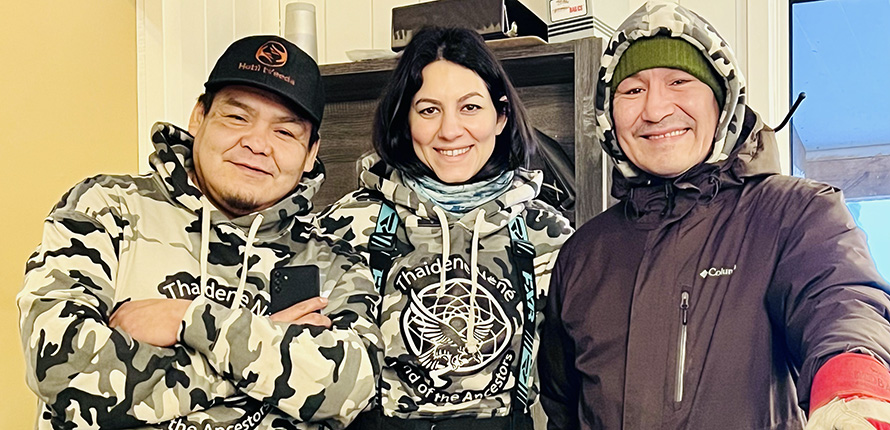 Kheyrollah Pour with Thaidene Nëné Guardians Rubin Fatt (left) and Kevin Fatt.
Kheyrollah Pour leads the Remote Sensing of Environmental Change (ReSEC) research group. Her team studies the responses of cold region water systems to climate change using mathematical modelling and cutting-edge technology. As part of the Government of the Northwest Territories' Cumulative Impact Monitoring Program, she and her Laurier graduate students have been installing sensors on local lakes to collect real-time measurements of ice thickness, snow depth, and air and water temperatures.
At a territorial level, this information supports northern resource decision-making. In Łutsël K'é, it will hopefully prevent anyone from travelling on dangerous ice again.
In January 2023, Kheyrollah Pour and her research team travelled to Łutsël K'é to partner with environmental stewards of Thaidene Nëné, known as Guardians, and installed sensors in two locations on Great Slave Lake. The sensors collect ice thickness data every 15 minutes, letting the community know when it is safe to travel in real time.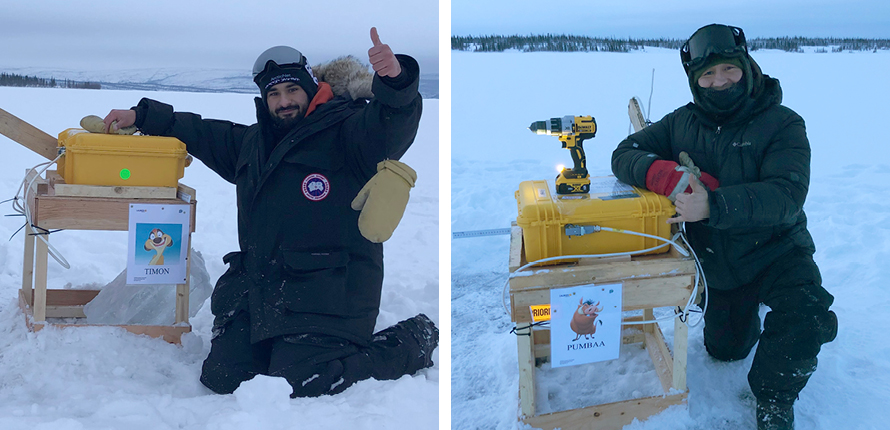 The lake ice sensors are called Snow and Ice Mass Balance Apparatuses, or "SIMBAs" for short. The sensors on Great Slave Lake were nicknamed "Timon" and "Pumbaa."
"The sensors will also help us gauge from year to year how the ice thickness is changing over time, and how we can prepare and protect our people so they don't get hurt," says Catholique. "We can look at data from the past couple of years and say, 'We think around Dec. 26 or Jan. 5, we should be able to travel.'"
Arash Rafat, a Geography and Environmental Studies PhD student, and Alex MacLean, a Laurier technician, spent a week working alongside a group of Guardians, exchanging knowledge about lake ice monitoring.
"The Guardians selected locations on Great Slave Lake based on safety concerns and we travelled there together to teach them how to install the sensors and collect measurements," says Rafat. "We talked about the science behind the technology and paired it with what the Guardians already know about the ice and the land."
The Guardians are part of the First Nations National Guardians Network, a federal initiative aimed at helping Indigenous communities protect their lands and water. They travel these routes daily, accompanying community members on hunting excursions to ensure their safety.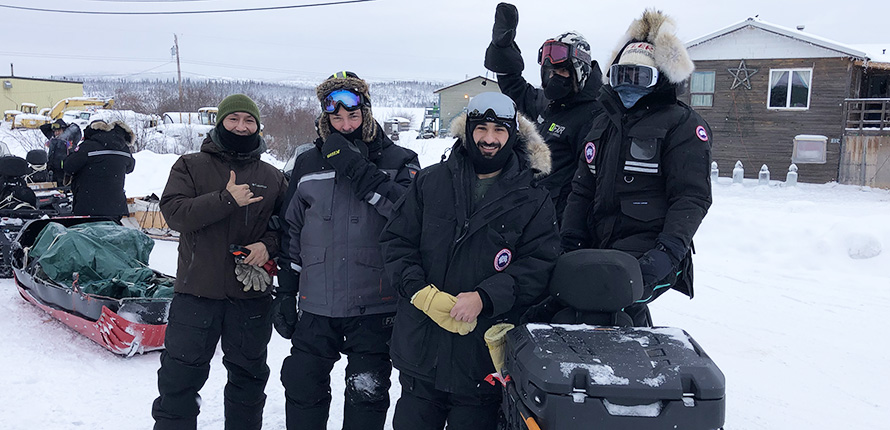 Rafat and MacLean (centre) with Thaidene Nëné Guardians.
"It's amazing how in touch they are with their land, especially considering the size of the area that they protect," says MacLean. "Some of these hunting sites are tens, sometimes hundreds of kilometres away from town. Their responsibility is huge. We are very fortunate to learn from them and work together on this project."
"The sensors provide us a snapshot of what's going on, but speaking to the community about the changes they have observed over time and their experiences travelling on the ice helps to improve our understanding," says Rafat. "Stories from community members shed new light and perspectives for us. It is an honour to hear them."
Catholique welcomes the research collaboration, as it will help her community maintain its traditions and pass them on to the next generation.
"We try to use Western science as much as we can to validate the teachings that were passed on from our Elders and make it applicable to our day-to-day lives," she says. "My team really enjoyed the training experience they had with Laurier. We are all about using new technology for the betterment and safety of our people."
The Laurier team will return soon to help retrieve the sensor equipment before spring. Then, the Guardians will be equipped and empowered to monitor independently in the years to come. The measurements they collect will help the ReSEC research group validate their predictive models for ice thickness, an effort to understand and combat the effects of climate change on northern lakes, as well as the communities that rely on them.
"My duty as a scientist is to understand what is happening and what are the next steps," says Kheyrollah Pour. "We are there to listen to our partners in Łutsël K'é and learn from each other to build capacity in their community and address their needs."