"Peace, love and justice" is the title of an award-winning journal article co-authored by Sediqa Akbari and Rohina Zaffari, two Afghan academics participating in the Visiting Researcher – Scholars at Risk program at Wilfrid Laurier University. These research themes are deeply personal for both women, who have persevered through armed conflict, persecution and forced migration to pursue their scholarship.
The Scholars at Risk (SAR) program provides support to scholars who have been forced to leave their academic positions due to threats to their life and liberty. Through funding, access to library resources and faculty partnerships, the program enables them to re-engage with their research goals. Laurier is a proud member of the SAR network and is currently remotely hosting five international scholars, including two from Ukraine.
Since September 2022, Akbari and Zaffari have been collaborating with their SAR sponsor Bree Akesson, an associate professor in Laurier's Faculty of Social Work. It is an extension of a longtime research partnership that began in 2016 when Akesson was invited to co-lead a study of psychosocial well-being in Afghanistan with Martha Bragin, a professor at Hunter College at the City University of New York. As the Canada Research Chair in Global Adversity and Well-Being, Akesson's research has taken her all over the world to document the experiences of people affected by war.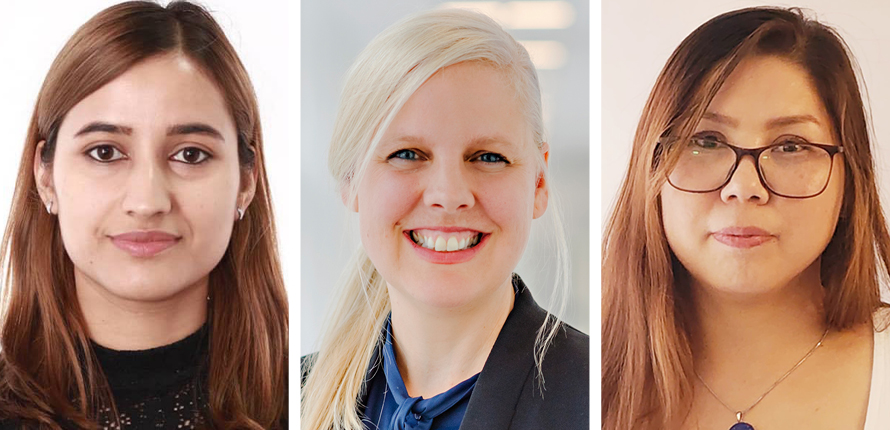 Zaffari, Akesson, Akbari
At that time, Akbari and Zaffari were assistant professors at Kabul University and joined the study as co-authors. With a team of colleagues, they travelled throughout the country to interview 440 Afghans through 56 focus group discussions. Their work culminated in a paper published in International Social Work titled "Peace, love and justice: A participatory phenomenological study of psychosocial well-being in Afghanistan." It was recently voted the International Social Work Paper of 2022, a prestigious award reflecting its critical importance to the field.
Defining Well-Being
"Peace, love and justice" originated as an attempt to help Afghan counsellors and social workers evaluate the success of their work. In a country plagued by decades of war, severe drought and economic insecurity, there was little understanding of what social and psychological wellness looked like in an Afghan context.
"Martha and I answered a call to support a cohort of Afghan professors who were trying to address the mental health issues people were facing in Afghanistan," says Akesson. "Different understandings of well-being exist in different cultures. We wanted to develop indicators of well-being in their local context and operationalize them."
Data collection was challenging, Akbari recalls, hindered by inevitable obstacles in a country experiencing religious and political unrest. The research team could only travel to four of seven Afghan regions due to risk of armed conflict. At the time in 2018, an intensive campaign of intimidation was underway by numerous fighting parties, including the Taliban, Daesh and other local groups, and targets included government employees, academics, social workers and members of the Hazara ethnic group. 
As a Hazara woman, the lingering threat of violence was familiar to Akbari and part of what motivated her to get involved in this research.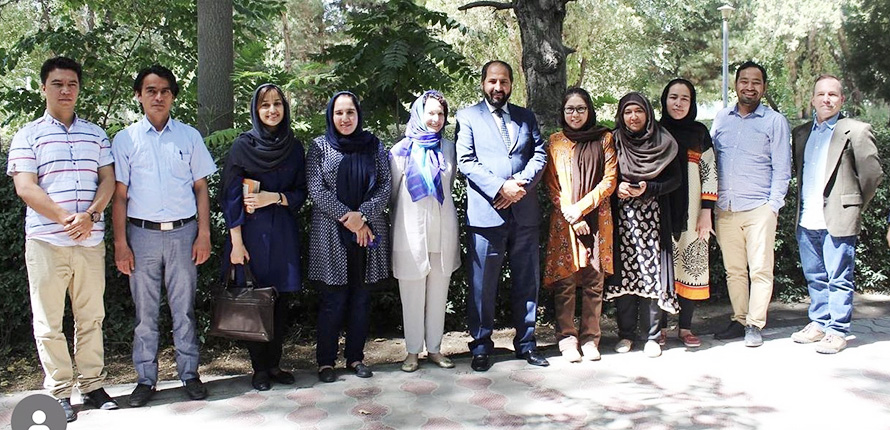 Zaffari and Akbari with their research team in Afghanistan
"After growing up in Iran as a refugee, it was my dream to return to Afghanistan and work in my own country," she says. "I returned, but still I was a minority and there are many threats for minorities working in Afghanistan, especially minority women. Women are not allowed to do so many things: have a job, go to school, even freedom of movement. I knew we needed to do something to empower women and help us become equal."
Akbari and her colleagues worked with social service providers and non-governmental organizations to identify local women who were willing to be interviewed for the study. Ultimately, they conducted focus groups with 187 women and 253 men. Men and women were interviewed separately due to cultural norms and safety concerns.
"I loved our focus group discussions because I felt a strong connection with these women," says Akbari. "They spoke from the heart about what they needed to feel well and what makes them happy in life. They told us things they never get a chance to talk about, like mutual respect in their families and our patriarchal society. I am so happy that we created a safe environment for them to share."
A Caged Bird
After analyzing the data, the research team found that indicators of well-being within Afghanistan were largely centralized around peace, economic security and strong family relations. Religious freedom and the eradication of armed warfare were two major focuses of both male and female participants. Male participants were interested in greater independence and autonomy, as they wished for freedom of expression and civil rights.
Female participants strongly advocated for women's rights. However, some women suggested the need for a caveat within the Islamic context: they didn't want anarchy or freedom that did not respect the Afghan culture. Zaffari found this surprising.
"I realized that many women in Afghanistan didn't want the same 'freedom' that I was defining for myself," she says. "I believe there should be equity between men and women, and that women should be able to participate outside the household. But many women accept Islamic boundaries. They have never been to other countries to realize what basic rights are, or how they could enjoy their lives and participate in leisure activities. I use the example of a caged bird: if you are raised in a cage, you believe it is very spacious."
Zaffari attributes her point of view to her education, which included the completion of her Master of Social Work degree in India. Having regularly appeared on Afghan television to advocate for women's rights, she was seen as an enemy by the Taliban and their sympathizers.
In November 2020, Zaffari was teaching at Kabul University when three gunmen stormed the campus and took 35 hostages, eventually killing 32 and wounding 50 others. She and her students narrowly escaped through a back door.
"When I got home, everyone was crying and screaming and we realized that Afghanistan was not a safe place for us to live," says Zaffari. Her family sought refuge in Tajikistan, where they lived for two years while waiting to be resettled in Canada.
"I lost everything: my home, my career, my identity," says Zaffari. "It was really tough because I was an assistant professor in Afghanistan, and now there were no job opportunities for me or my family members in Tajikistan. We spent our entire life savings in just two years."
Rebuilding in Canada
Both Zaffari and Akbari are now safely living in Canada and completing new research with the support of the SAR program at Laurier. Seeing the impact of their research in Afghanistan, which resulted in Kabul University opening its first counseling centre, inspired Zaffari to study the well-being of Afghan refugees in Tajikistan. She hopes to inform policies that will improve their living conditions.
While exploring options to complete her PhD, Zaffari is working as a language instructor for newcomers to Canada and a family counsellor at an immigrant women's association. She credits the resources and connections she has gained through the SAR program with helping her secure these positions.
Akbari is working at a settlement organization, where she coordinates a wellness program for marginalized women. As a newcomer herself, she brings her lived experiences to the role and her research on improving the well-being of refugees during resettlement.
"It was a difficult decision to leave home, and it's still not easy," says Akbari. "But now I am okay because I am safe and nobody can harm me because of my ethnicity or religion."
When their time with the SAR program ends in June, both women will continue collaborating with Akesson as part of her Global Adversity and Well-Being Research Group. Akbari is grateful for the support she has received from Laurier.
"It's a wonderful opportunity for me, connecting me with other academics and allowing me to work with Dr. Akesson on global adversity research. This is part of my pathway to find myself as a scholar, and even just as a person who wants to work and build a life in Canada. I am so happy."