Wilfrid Laurier University's Enactus team claimed the national title at the Enactus National Exposition. A total of 44 teams competed from across Canada at the event held May 1 to 3 in Montreal.
The Laurier team, which presented two student-led enterprises, defeated competitors from Saint Mary's University, Okanagan College and the University of Ottawa in the final round of competition. Enactus Laurier will represent Canada at the Enactus World Cup in Utrecht, Netherlands in October.
In addition to winning the national title, Enactus Laurier received the 2023 Hazelview Sustainable Cities Project Accelerator Best Project prize for the work of Kuponya Innovations, which has created a sustainable, climate-resilient housing solution for Indigenous communities in Canada's North. Enactus Laurier's President Zander Smith also received the Enactus Student Leader of the Year award.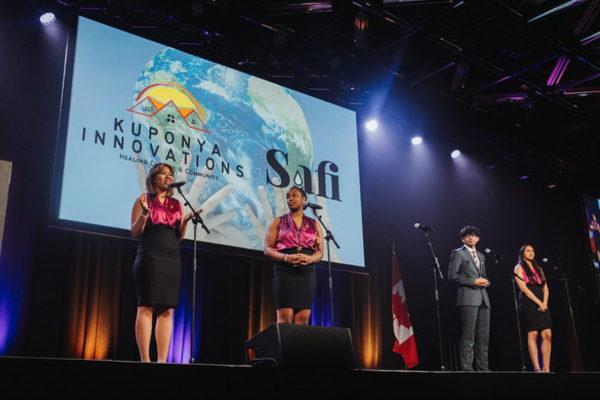 Photo: Laurier Enactus team members present student-led enterprises Kuponya Innovations and Safi.
Enactus is a global network of student leaders and changemakers that uses entrepreneurship as a catalyst for positive social and environmental impact.
"I am simply blown away by the innovation, passion, and dedication of the Enactus Laurier team," says Laura Allan, director of innovation and entrepreneurship at Laurier and faculty advisor to Laurier's Enactus team. "The drive and creativity of these young leaders will bring significant positive impact to communities around the world. It makes me very hopeful about the future to witness them in action."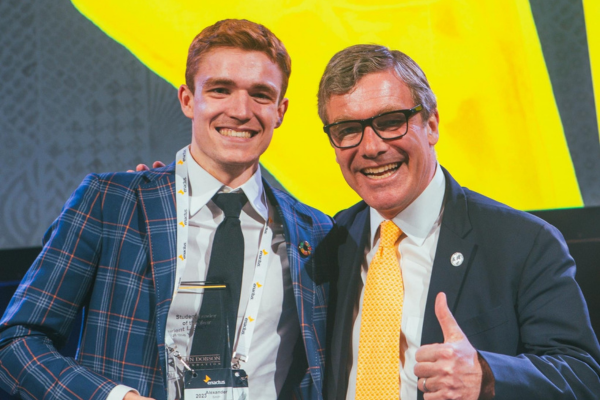 Photo: Laurier Enactus President Zander Smith (left) received the Enactus Student Leader of the Year award.
The Enactus Laurier enterprises presented at the national exposition address complex, climate-related challenges in Canada and beyond.
Addressing the climate and housing crisis in Canada's North
Adequate housing in Canada's North has become unaffordable and unsustainable amid increasing climate-induced threats such as floods and forest fires. Indigenous communities are on the frontlines of the crisis.
Kuponya Innovations is building affordable, sustainable tiny homes in remote Indigenous communities in the Northwest Territories. The homes will be constructed from structural insulated panels that upcycle more than 40,000 plastic water bottles per home. Unlike traditionally built homes, these tiny homes can be assembled in days rather than months and are built on climate-resilient ground screw foundations. Kuponya Innovations' homes also incorporate Passive House and Net Zero principles into their designs to lower operating costs and reduce the communities' reliance on fossil fuels.
Led by Political Science student Jordan Prentice, the Kuponya Innovations team will return to the Northwest Territories this summer to work on their first model home. Strategic project partners include Indigenous Services Canada, Crown-Indigenous Relations and Northern Affairs Canada, Housing Northwest Territories, and IKEA Canada, among others.
Providing pasteurization solutions for East African dairy farmers
Climate-induced droughts in East Africa are forcing dairy farmers to look to more drought-resistant camels as an alternative milk source. However, most of the milk is not pasteurized, which can contribute to the spread of deadly, milk-borne diseases from these camels.
Enactus Laurier enterprise Safi has created a simple, cost-effective pasteurization unit to ensure the production of safe and nutritious milk. Safi's pasteurization unit can adjust to fit any sized pot and has a proprietary thermometer with a simple three-colour LED display that indicates when the conditions for pasteurization have been met. Powered by solar energy or electricity, the unit can pasteurize a farmer's daily milk yield in approximately three minutes.
Safi co-founders Miraal Kabir, Daria Margarit and Martin Turuta recently returned from Rwanda where they met with Ministry of Agriculture officials. While there, the team also partnered with two milk cooperatives to pilot their pasteurization units with 302 farmers in fall 2023. Plans are in place to scale to Kenya, Uganda and Tanzania by fall 2024.
A fundraising campaign is underway to cover production costs of the first 122 Safi units, which will be used during a pilot project this fall in Rwanda. 
Strategic project partners include the Ministry of Agriculture and Animal Resources in Rwanda, Rwanda National Dairy Platform, and Rwanda Engineering and Manufacturing Corporation, among others.
Related Stories