Wilfrid Laurier University celebrated the official launch of a new Community Hub on April 27. Affiliated with the Centre for Community Research, Learning and Action (CCRLA) and Laurier's Community Psychology program, the multi-room space will allow for new and enhanced research partnerships with community organizations and experiential learning opportunities for students.
The Community Hub is located on the second floor of Laurier's building at 232 King St. N. in Waterloo. Following a renovation, which CCRLA co-director Ciann Wilson calls a "labour of love," it is now home to a media lab, various collaborative learning and meeting spaces, a kitchenette and offices for students.
CCRLA, established in 2008, is dedicated to advancing community well-being and social justice through research that is informed and led by communities. The Community Hub was designed to be a welcoming, accessible space for research partners from all walks of life. The wall colours are intentionally bright and vibrant, says Wilson, to disrupt and contrast the more sanitized colour palette of white and grey favoured by institutions. The kitchenette is well-equipped with all of the essentials for hosting community gatherings. Every detail was carefully considered, including the use of hypoallergenic paint and materials throughout the hub.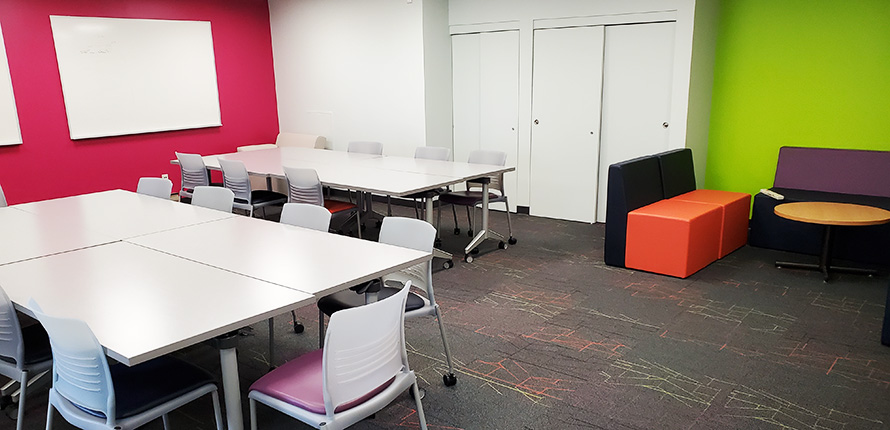 "The Community Hub is a place for cultivating and supporting interdisciplinary and multi-sectoral community-university partnerships at Laurier," says Wilson, an associate professor of Community Psychology. "This can be a hallmark for our university as we lead the sector in research that is relevant beyond the walls of the ivory tower."
Rooms in the Community Hub are bookable by Laurier community members. Wilson hopes that students, staff and faculty will be proud to work in these new spaces where they can collaborate with their research partners and community leaders. That includes partners outside of Waterloo, as the Hub's Community-Based Research Media Lab is equipped with video-conferencing technology to facilitate hybrid meetings. It also has computers for data analysis and field research equipment, such as cameras, audio recorders, laptops and projectors, that affiliated students and scholars can borrow for arts and digital media research. The media lab was funded by one of Wilson's grants from the Canada Foundation for Innovation.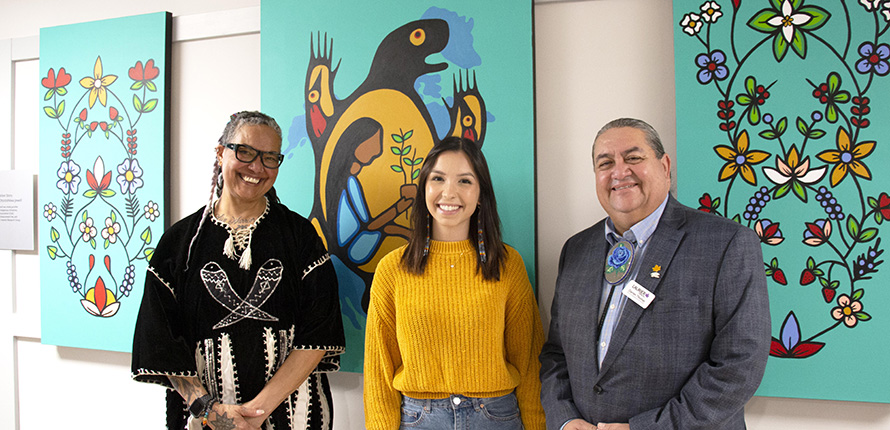 Ann Marie Beals, Alanah Astehtsi Otsistohkwa (Morningstar) Jewell and Darren Thomas in front of "Turtle Island Creation Story"
The Community Hub was officially opened with a launch event on April 27, which included an unveiling ceremony for an art installation titled "Turtle Island Creation Story" by artist and Laurier alumna Alanah Astehtsi Otsistohkwa (Morningstar) Jewell (BA '19). Her artwork was created with the support of Assistant Professor Ann Marie Beals, the Graduate Students' Association and the Laurier Students' Public Interest Research Group. It is part of an Indigenous place-making initiative led by Laurier's Office of Indigenous Initiatives.
Speakers at the opening included Darren Thomas, Laurier's associate vice-president: Indigenous Initiatives, who worked with CCRLA during his time as a Laurier student; Roger Buehler, chair of Laurier's Community Psychology program, who believes that the Community Hub will further enhance Laurier's reputation as a leader in the field; and guest speaker Christopher Stuart Taylor, associate vice-president: Equity, Diversity, Inclusion and Anti-Racism at the University of Waterloo. 
Anyone interested in booking space at the Community Hub can contact Wilson at ciwilson@wlu.ca.