Leadership is a skill best learned through practice. That's the philosophy behind OL401: Leadership Skills: Practice and Application, a fourth-year course in Laurier's Leadership program offered in Waterloo and Brantford.
The course, taught by Faculty of Human and Social Sciences Associate Professor Kris Gerhardt and Assistant Professor Lisa Kuron, aims to move away from a focus on textbooks and lectures to the practical application of skills and ideas.
"We designed this course with the intention to give students the practical skills they need to succeed not just in academic life, but in the working and social worlds as well," says Gerhardt, who teaches in Laurier's Leadership program. "We teach students to be collaborative, innovative and creative – qualities that will serve them well beyond academia and for the rest of their lives."
Gerhardt and Kuron modelled their curriculum after the Collegiate Leadership Competition (CLC), an annual global leadership competition with an associated curriculum focused on leadership skills. 
They used the CLC's approach of creating acronyms to help students remember key information in a shorter duration of time. They also moved lectures and readings into the first five weeks of the course, opening the remainder of the semester to be spent focused on deliberate practice. 
Deliberate practice is different each week depending on the skill Gerhardt and Kuron are teaching. One week's exercise is focused purely on situational stressors and team conflict, with students placed in small groups and challenged with defusing a fake explosive in less than 25 minutes. Only select students can read the "bomb defusal manual" while others work on defusing the explosive. To help emulate unexpected problems, the instructors play loud, repetitive music and turn the lights on and off to make the bomb defusal manual difficult to read. It's up to students to problem solve by thinking critically and outside the box while working and communicating effectively with their team.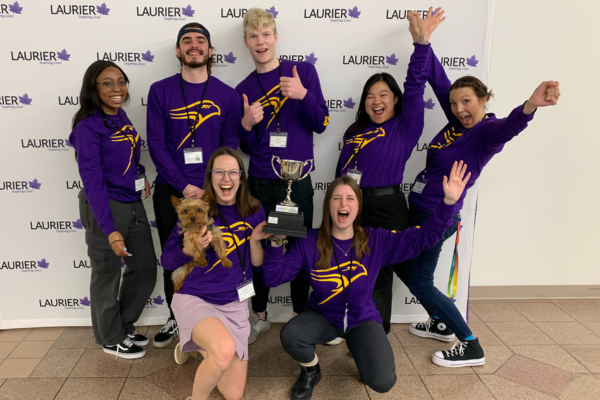 Photo: Laurier's OL401 Leadership team placed first in a provincial CLC challenge held in March 2023.
Regardless of the theme of the week, the goal is to teach students to overcome their limitations and circumstances, to manage unexpected challenges, and to recognize that a good result is never guaranteed.
Gerhardt and Kuron also teach students that there is no one correct way to be a leader or part of a team. Rather, different types of leaders and followers are needed for a successful team and one is not more important than the other.
"Sometimes being a leader is being the one who stands back, helping to support where it's needed," says Gerhardt. "You can guide and direct without being the loudest voice in the room."
The willingness of students to engage determines their success in the course. Students can't expect to simply memorize terms, do well on tests and pass. Instead, the focus is on the process of creating results rather than the results themselves. Gerhardt and Kuron encourage students to actively apply their knowledge, work at the edge of their abilities, and be willing to make and learn from their mistakes.
"There will always be challenges and obstacles beyond our control," says Kuron. "But if you can master the process of working together, collaborating and problem solving, even if you don't get the win that you wanted, you still learn some really valuable lessons by just engaging in a thoughtful and intentional process."
After every class activity, small groups of students are placed with coaches, who are specialized teaching assistants and teaching staff, to discuss the process, including what went well, what didn't and what could be improved. Small group sizes allow coaches to provide attention and feedback to every student in the classroom and for students to discuss topics among themselves. This openness of conversation creates a safe space for students to practice, make mistakes and continuously improve.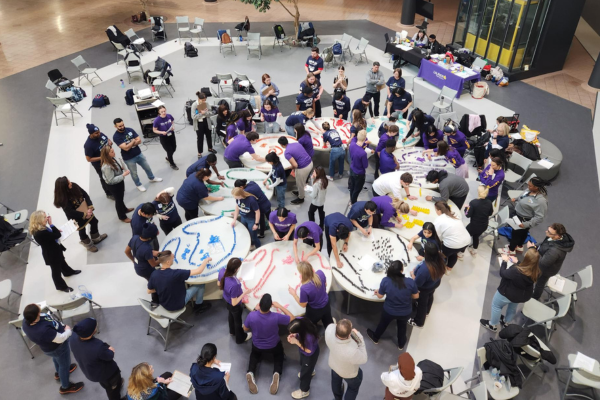 Photo: Leadership challenges held during a recent Laurier Open House.
Halfway through the semester, six students can volunteer to participate in the online Collegiate Leadership Competition (CLC), where more than 100 students from different postsecondary institutions around the world compete in leadership challenges based around team building, communication and problem-solving skills. Teams are tasked with completing challenges such as directing a blind-folded group across a room, or stacking cups without using their hands and only the tools provided, like an elastic band. They are scored on results and processes, including leadership styles and teamwork.
Laurier students have participated in the CLC since 2016 and the university's Brantford campus hosted the competition in 2019. The competition has been held online the past several years due to the COVID-19 pandemic. This year, the team experimented with a smaller-scale, in-person competition, held in Brantford in March 2023.
With support from Laurier's Faculty of Human and Social Sciences and faculty members in the Leadership program, OL401 has grown since its formation in 2017, including expanding from Laurier's Brantford campus to the Waterloo campus in 2020, when Kuron joined in teaching the course.
Gerhardt says collaboration is the key to success as a leader. He often reminds students how important it is to work with those who push them out of their comfort zones and encourage them to see things differently, while working together to find the best path forward.
"Be an intentional collaborator," says Gerhardt. "Leadership is not a solitary activity. True leadership involves other people."
Laurier's Leadership program prepares students for leadership positions and explores historical and contemporary issues facing leaders and organizations. Learn more about the program.