What started out as an idea in class became a tangible product for four Wilfrid Laurier University students looking to make a difference in the Brantford community.
Third-year students Maria Lobbezoo, Clayton Harding, Matteo Distefano and Natalia Forrester, with the help of Stephen Fernandez, an instructor in the User Experience Design (UXD) program, created a storage pack designed for individuals experiencing homelessness to hold their belongings, store food and use as a sleeping bag.
The bags, called Nurture Packs, were created out of a concept devised in Fernandez's Maker Lab class, where students learned about the critical making process and how design can encourage a deeper understanding of the issues and challenges people face.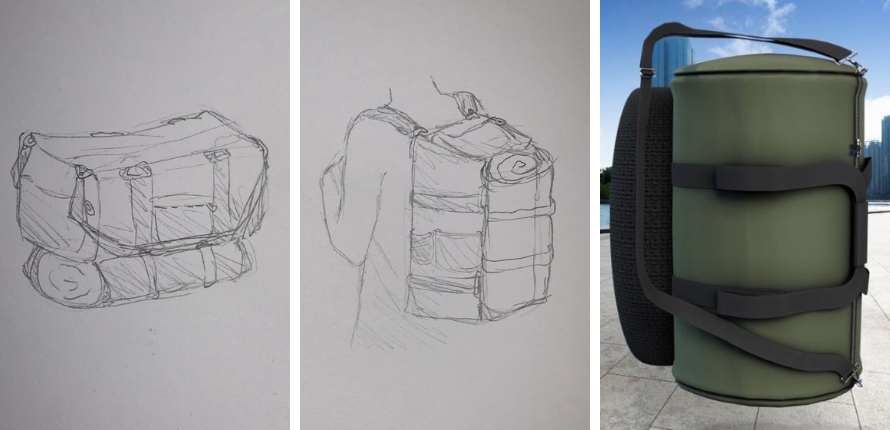 "As a team we wanted our project to focus on a local community-based issue," says Lobbezoo. "We decided to design an item that would improve the daily life of unhoused Brantford community members in some small way."
Through the design process – and a lot of trial and error – a Nurture Pack prototype was born.
The bag includes a removable thermal food storage bag and a protective vinyl cover that encases a sleeping bag that can be rolled out from the bottom of the storage pack. The cover acts as a protective sleeping mat to separate the sleeping bag from the ground and protect the sleeping bag material from the elements while providing quick and easy access. The pack can also act as a pillow.
The bag can be carried three different ways for enhanced mobility and ease of use and it includes removable elements to account for different ways people may use it.
Students host DIY workshops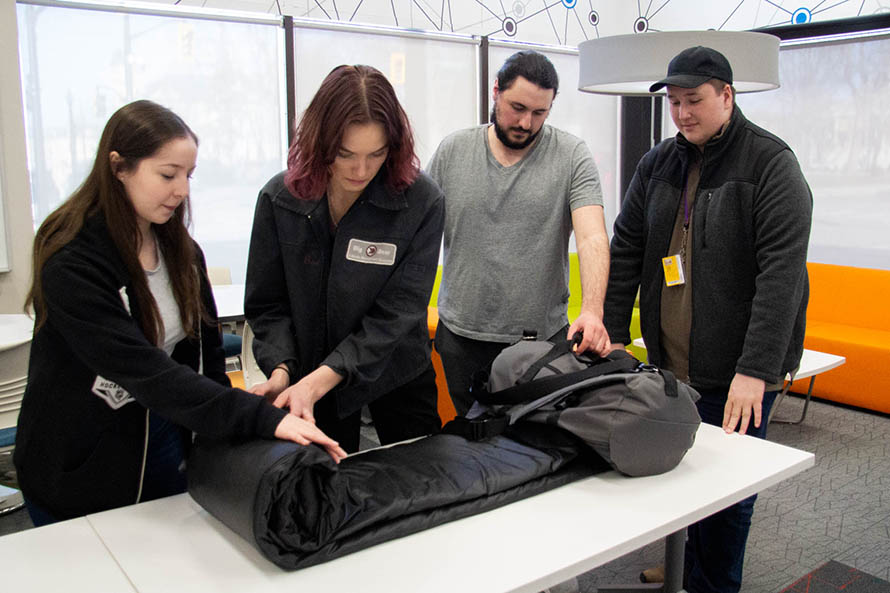 In addition to designing a product, the student team wanted to raise awareness and build empathy for those experiencing homelessness. Lobbezoo learned to sew while creating a prototype of the bag and saw it as a skill others could benefit from, too.
With a $4,355 grant from Laurier's Sustainable Hawk Fund, Lobbezoo, Harding, Disefano and Forrester sourced resources, equipment and materials to produce multiple Nurture Packs and facilitated workshops to teach others how to make them, bringing their idea to life with help from the Laurier community.
During the winter term, the group held two well-attended workshops for Laurier community members to learn about challenges the unhoused population faces and to learn about constructing Nurture Packs. The group hopes to expand the workshops, where participants can learn to sew and help construct the Nurture Packs, to Laurier's Waterloo campus in the 2023-2024 academic year.
"Our goal is to inspire participants to create, design and innovate in their communities," says Lobbezoo. "While the project idea started with the designing of the Nurture Pack itself in class, our core goals with our Sustainable Hawk Fund project have always been to keep the pattern relatively simple and achievable for any volunteer to complete regardless of whether they have had experience sewing or not."
The group also connected with LaunchPad Brantford, an on-campus business incubator. Through LaunchPad, the team was able to access mentoring, budgeting assistance and connect with community resources.
"It was so inspiring to support a group of students who were able to come up with an innovative solution after recognizing multiple current issues that we face," says Julie Perkins, LaunchPad Brantford coordinator. "Their awareness, compassion and dedication were evident throughout the entire progression of the project."
Designing for everyone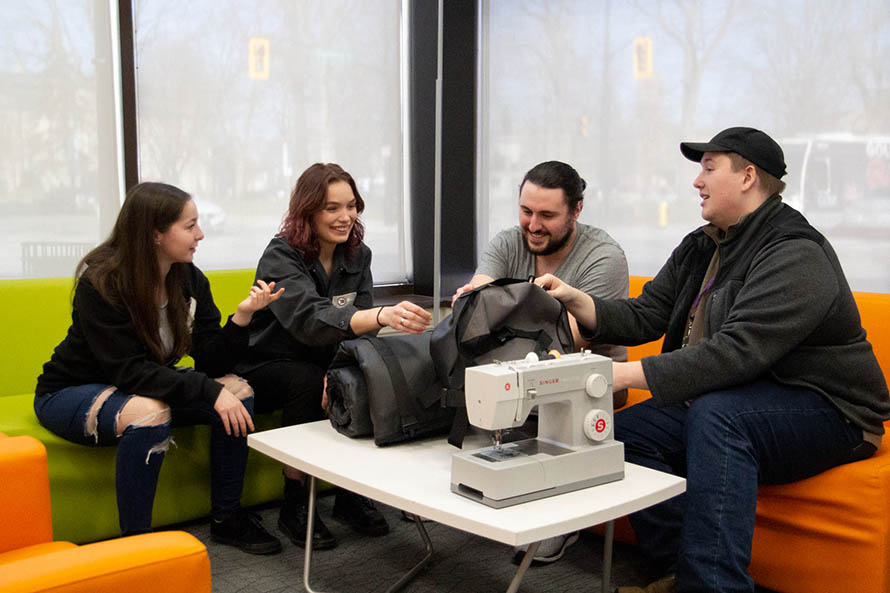 In his classes, Fernandez teaches about the importance of thinking outside the normative population box.
"Often times, people design something that is built on the assumption that people are able-bodied and sighted and can hear perfectly and can use the app perfectly, but that's not the case; people are diverse," says Fernandez. "We are educating our students from the start to learn about accessibility and learn about the importance of equity, diversity and inclusion."
The next phase of the Nurture Packs project will include more workshops in the 2023-2024 academic year.
"It has been an incredible and unexpected journey from a theoretical class project to a tangible prototype and social sustainability campaign," says Lobbezoo. "Having never pursued something like this before, we have experienced a lot of trial and error and unanticipated barriers, but having the opportunity to work through all of it has allowed us to learn so much about resilience, problem solving and flexibility."