Eight students in Wilfrid Laurier University's Bachelor of Education program were planning a trip to Sulmona, Italy to teach English when news hit that schools, organizations and businesses were closing, not only in Italy but around the world. 
"I was out for dinner with some classmates when we heard the news that the government was shutting schools down," says Catherine Omand, one of the students who had planned to go to Italy in April.  "We just couldn't believe it."
The three-week trip was to be the students' alternative placement, a program requirement designed to provide an opportunity to gain hands-on experience outside of a typical Ontario school classroom, where the students had already worked in placements throughout the school year, but the pandemic forced the faculty to make other arrangements.
"Within an hour, we received an email from the dean and other faculty acknowledging the announcement and letting us know that they were going to figure something out," says Omand.
Across Laurier's faculties and departments, thousands of experiential learning opportunities – including co-op and field placements, community service-learning opportunities, workplace partnerships, research assistantships and exchanges – were suddenly in question due to COVID-19, leaving students wondering how they would complete the requirements of their programs.
Staff and faculty members, in consultation with students, got to work quickly, making innovative  arrangements and modifying existing ones, all while learning to work remotely.
Faculty of Education
Students in the first year of the Bachelor of Education program had alternative placements scheduled at local charities, not-for-profits and private schools. Some of those placements were abroad, in countries including Italy, Nepal, Egypt and Haiti. With the help of faculty members and staff, most students were able to make other arrangements: some supported teachers whose classrooms had moved online, some provided virtual homeschooling and others assisted faculty members with research. Some students chose to take an extension in order to complete their alternative placements in person at a later date.
Maria Cantalini-Williams, professor and dean of the Faculty of Education, had planned to supervise students on their trip to Italy, where she has taken many students in previous years. When the trip was cancelled, Cantalini-Williams suggested students take their placements in an entirely new direction.
Since 2016, Cantalini-Williams has served with the Rideau Hall Foundation's Education for Innovation project, designed to develop innovation skills and mindsets in Canadian students. She proposed that students build learning modules about innovation that could be used by parents and teachers in Italy, as well as in Canada, for children from Grade 1 to Grade 8.
The students were divided into four groups, with each focusing on innovative ideas related to the coronavirus pandemic and either medicine, communications, sports or food. They formed learning modules that highlighted examples of Canadian innovations and asked young learners to think of some innovations themselves, such as an activity designed to help keep people active while at home or new ways to deliver groceries.
"The more we learned about innovation from Maria, the more we saw how relevant it is right now," says Jocelyn Cameron, a student whose module focused on medical innovations. "It helps children feel connected to what's going on in the world and feel like they can make a difference. Innovation can be woven into all areas of the curriculum at any time, but it's particularly relevant right now."
Cantalini-Williams and her students met regularly using video conferencing software and shared and edited their work online. While there was a learning curve with technology, mutual support and collaboration between the dean and students ensured things went as smoothly as possible.
"This whole experience has really given me a huge appreciation for the teachers who are having to adjust to this new way of teaching, especially those who've been teaching for years," says Omand. "It's so different creating lessons and learning activities online. I hope this learning process will only make me a better, more adaptable teacher in the future."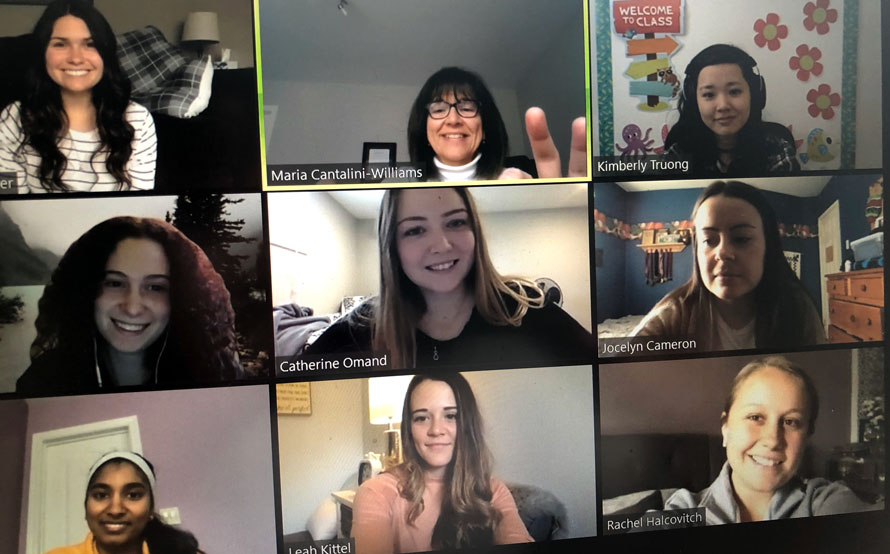 Education Professor Maria Cantalini-Williams and her students, who are completing their field placements remotely. 
Faculty of Social Work
By mid-March, staff in the Faculty of Social Work were working tirelessly to accommodate hundreds of undergraduate and graduate social work students who required new or modified placements for the remainder of the winter term, as well as for spring and summer placements. Adjusting each placement required working with organizations to find alternative ways for students to be involved remotely, whether through research, counselling, program development or group work.
To best support students, Faculty of Social Work staff members offered daily meetings via video conference, along with regular video and email communications between students and their field advisors.
"Maintaining an open line of communication not only helped us provide timely updates, but also allowed us to understand the stresses our students were facing and the solutions they required," says Yumna Al-Adeimi, manager of field education for the Master of Social Work program.
The faculty adapted quickly to the changes by building the infrastructure and resources needed to support remote field placements and is now piloting an innovative new field delivery model, where the faculty will supervise social work students in their virtual placements with partner agencies. The model both addresses the needs of the community agencies and benefits students, who will have access to a diverse range of field opportunities and learn new ways of practicing social work.
"We have one proposal currently under consideration that would enable our students to provide virtual counselling for front-line workers such as grocery store clerks and truck drivers, under faculty supervision," says Dawn Buzza, dean of the Faculty of Social Work. "These workers are often the unsung heroes of our community and our country, as they face loneliness, isolation and stress related to the personal health risks associated with their jobs. And they often have few people to talk to in the course of a day's work."
Laura-Lee MacDonald, a Master of Social Work student, planned to spend part of her summer working for Planned Parenthood Ottawa creating a support program and offering counselling to people who had experienced early pregnancy loss. When the pandemic hit, MacDonald began working on schoolwork from home, while juggling the demands of being a single parent.
With the help of staff and support from her advisor and classmates, MacDonald was able to modify her placement so she could work from home, connecting with Planned Parenthood Ottawa through video chat, as well as other online tools. She has been writing a draft proposal for the support program – which MacDonald proposed to fill a gap in city services – as well as creating focus groups and conducting virtual meetings with community organizations. She's also learned some new skills.
"I have improved my personal organization and learned to motivate myself while managing my workload and expectations," MacDonald says. "And I've greatly improved my career network through professional contacts connected with my project."
The Faculty of Education and the Faculty of Social Work have had to think outside of the box and collaborate in new ways to ensure students gain the hands-on experience needed to succeed and the organizations they are working for benefit, too.
"We worked collaboratively with staff and faculty across Canada to share information and newly created resources," says Al-Adeimi. "As a result, we were able to use these new tools and build on existing ones to quickly transition in-person placements to remote placements."
"Remote field placements provide emerging social workers with an opportunity to adapt to what perhaps will be a 'new normal' and build critical social work skills while supporting agencies, clients and communities virtually."