Xuan Nguyen wants to reduce the amount of excess household goods and waste that university students leave behind when they move out at the end of the academic year.  
Thanks to an innovative course offered at Wilfrid Laurier University, Nguyen's ideas for dealing with student bulk waste made their way to Waterloo City Hall and Mayor Dorothy McCabe. 
Social Innovation in the City, offered through the Faculty of Arts, provides students with hands-on opportunities to research, design and test social and policy innovations to make a positive impact in the City of Waterloo. Throughout the course, students have access to an advisory group of experts at the City of Waterloo and Laurier (as well as community experts and partners) At the end of the course, student solutions are presented to stakeholder groups during an in-person event at Waterloo City Hall. 
"It is a privilege to be able to help design and deliver this course as part of our growing Laurier-City Hub partnership with the City of Waterloo," says Laurier Assistant Professor Ehaab Abdou, who led the winter 2023 offering. "The commitment and passion of our partners at the city, the energy and dedication of our students, and the support and expertise of our social innovation advisors from across Laurier and our wider community are simply inspiring." 
Social Innovation in the City is part of the faculty's Laurier-City Hub initiative. Housed within the Department of Global Studies, Social Innovation in the City immerses students in experiential learning opportunities with municipal partners in Cambridge, Kitchener and Waterloo. 
During the winter 2023 course offering, Laurier students worked in groups on solutions to three issues presented by the City of Waterloo. Nguyen's group worked on dealing with end-of-term bulk waste in the university district; other groups investigated online voting in municipal elections and greening city festivals and events. Solutions were presented to an audience of stakeholders from the community, city and university on April 5.  
"Laurier students offer a fresh perspective on how different municipal services could be delivered and support their ideas with sound research," says Natalia Chebel, deputy city clerk with the City of Waterloo. "The students' work ethic, motivation and quality of their research is very inspiring, and the Clerk's Office has considered some of their findings when decision making." 
Below, student representatives from each group discuss their projects, proposed solutions and the skills developed through experience-based learning. 
Mitigating year-end student waste 
To understand why household items end up on the curb when students move out of their rental units, group members Xuan Nguyen, Vanessa Bruzzese, Ryan Smith and Jacob Didanieli launched an online survey to gather details about student attitudes and behaviours around waste disposal and recycling. The group also researched how other Ontario communities and postsecondary institutions collaborate to address student move-out waste. 
"Our research revealed that many students don't know what to do with the items they no longer need," says Nguyen. "Students also face barriers, such as transportation, to properly dispose of larger items like mattresses and furniture."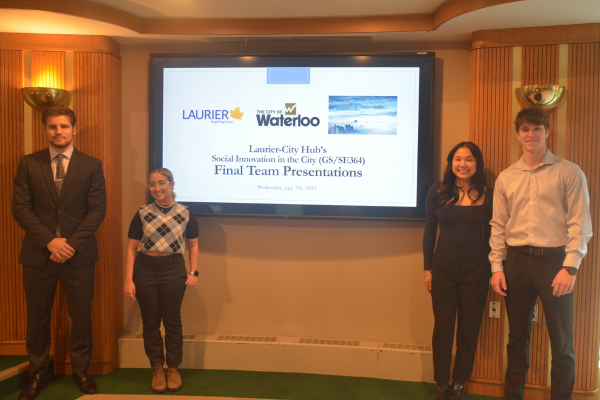 Photo, left to right: Jacob Didanieli, Vanessa Bruzzese, Xuan Nguyen and Ryan Smith.
Nguyen's group put forward a series of short- and long-term recommendations for city officials to consider, including incentivizing proper waste disposal, providing resources such as collection bins and transportation options to move larger items, and an educational campaign focused on waste diversion and recycling.   
"It was really rewarding to present our recommendations during the presentation at Waterloo City Hall and have our ideas heard by people at strategic decision-making tables," says Nguyen. "This course experience allows you to move your ideas into tangible solutions to real-world problems. I highly recommend this course to students looking to gain professional project experiences." 
Developing sustainable solutions for festivals and events 
While public festivals and in-person events in the City of Waterloo bring people together, city officials are working to embed sustainable practices into the experiences.  
Laurier students Kassidy Morency, Ben Chhiba and Tim Harrison researched sustainable elements of large-scale events held in Waterloo. The group analyzed responses from 67 survey submissions and six interviews, in addition to reviewing best practices among cities in Japan, Canada, the United States and United Kingdom. 
Short- and long-term solutions proposed by the group include banning single-use plastics such as drinkware, cutlery, bunting and wristbands, developing an app to educate residents and guests about sustainable practices, and expanding green infrastructure to include water refill stations and e-scooters.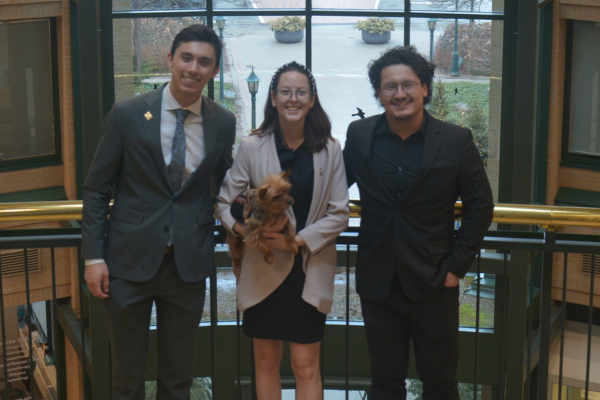 Photo, left to right: Ben Chhiba, Kassidy Morency and Tim Harrison. 
"Our suggestions received positive feedback and can be implemented relatively quickly," says Morency. "Getting involved with social innovation is a great way to connect with community partners to make a positive impact." 
Online voting in municipal elections 
Many communities in Ontario have implemented online voting for municipal elections, which results in long-term cost savings and increased participation rates. Online voting could make its way to the City of Waterloo, but more information and an examination of best practices are needed.  
Laurier students Josie Bhamani, Owen Turner, Eliza Clarry and Mikaela Romero-Atyeo investigated how some cities, including Markham and Barrie, Ontario, transitioned their elections to online voting. The students also researched issues associated with online voting, including barriers to technology, privacy risks and the negative impact of misinformation.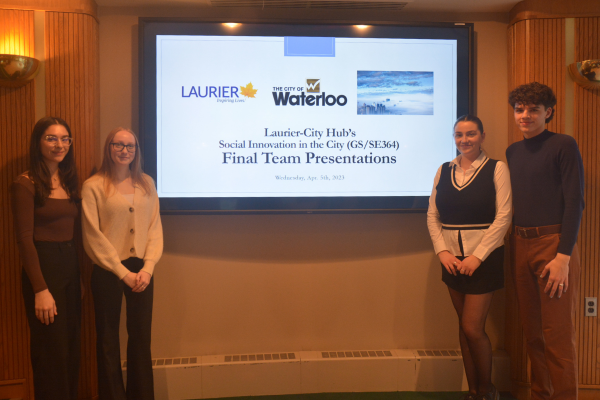 Photo, left to right: Josie Bhamani, Eliza Clarry, Mikaela Romero-Ateyo and Owen Turner.
The group's short- and long-term recommendations include consultations with residents, phasing out paper ballots over time and a media literacy campaign to educate voters about technology and misinformation.  
"Implementing online voting in Waterloo would be a significant undertaking that requires a multi-stakeholder approach," says Bhamani. "That is exactly what we have studied throughout Social Innovation in the City – how to develop solutions that meet the needs of intersecting groups. It's been an amazing learning experience." 
Social Innovation in the City is among course offerings included in Laurier's Social Entrepreneurship option, the first Canadian undergraduate social entrepreneurship program grounded in the liberal arts. 
Related Stories